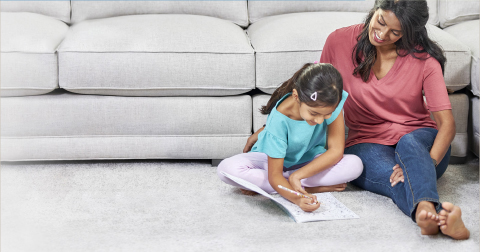 Your Healthy Home Starts Here
Carpet Cleaning Services in Rochester, NY
At B&B Complete Chem-Dry, we are proud to provide the best carpet cleaning services in Rochester, Irondequoit and Henrietta. Using only non-toxic, eco-friendly cleaning solutions, we offer the safest, most effective upholstery cleaning, rug cleaning and carpet cleaning services for homes and businesses in Rochester and Henrietta. Our products are tough on stains but safe for children and pets.
We know you have a lot of cleaning companies to choose from in the Rochester, NY area, that's why our carpet cleaning experts strive to provide each of our customers with an outstanding cleaning experience through our professionalism and attention to detail. Our professionally-trained technicians are knowledgeable, friendly, and committed to giving you the best cleaning in Rochester, Henrietta and Irondequoit.
What sets B&B Complete Chem-Dry apart form any other Rochester carpet cleaner is our tested and proven hot water extraction method. Unlike traditional steam cleaning, our process gets deep into the carpet fibers to eliminate stubborn carpet stains and odors while using significantly less water. This means your carpets will dry faster and the air in your home will be healthier.
Best of all, our services don't stop at carpet, rug and upholstery cleaning. We also offer tile and grout cleaning, hardwood floor cleaning, stain and odor removal, commercial cleaning and more. We are your one-stop-shop for all your Rochester home cleaning needs!
It's the goal of our highly-trained professionals to provide an outstanding cleaning experience. We'll treat your home and family with the care and courtesy you deserve. Give us a call today to see why we're Rochester's trusted carpet cleaners.
Learn More
Get a Free Quote Today!
Are you ready for a cleaner home courtesy of Rochester's top-rated carpet cleaners? Click below to access our form. Provide us with your contact information, as well as any additional information you think we might need, and we'll contact you to schedule an in-home appointment.
Frequently asked Questions
Ours is! We use the power of carbonation to extract more dirt and grime from your carpets, leaving them with a deeper and longer lasting clean. Chem-Dry's hot carbonating extraction (HCE) method sends millions of tiny bubbles deep into your carpets' fiber and padding to knock out the deepest dirt and stains. Even better, carbonation is eco-friendly. It uses only a fraction of the moisture that traditional steam cleaning requires and gets your carpet dry in as little as an hour.
If they're not cleaned up properly, pet odors can linger in your carpets for months. Millions of concentrated urine crystals seep into your carpets and padding as the urine dries, which grows more pungent over time. Although most companies just mask this odor, Chem-Dry's patented P.U.R.T. (Pet Urine Removal Treatment) system explodes the urine crystals and breaks down the enzymes. Your home will be fresher than ever.
As a rule of thumb, industry experts recommend having your carpets cleaned every 3 to 6 months, and more frequently if your home includes kids, pets, or allergy sufferers. Beyond improving your home's appearance, regular cleaning eliminates germs and allergens, improves your home's indoor air quality, and extends the life of your carpeting.
Our proprietary cleaning process is equally as effective on upholstery as it is on carpets! The carbonated bubbles work deep into the upholstery fibers, lifting up dirt, soil, airborne allergens, and spots. After treating the upholstery with The Natural, our extraction equipment removes the cleaning solution, along with dirt, soil and any airborne contaminants it released. Your upholstery will be left with nothing but a healthy, long-lasting clean.
No – we're better! We use carbonation instead, which uses only a fraction of the water that steam cleaners need. Not only will your carpets dry faster; you'll also be making an eco-friendly choice.
Your family's safety is of the utmost importance to us. That's why every ingredient in Chem-Dry's primary cleaner, The Natural, is on the FDA's GRAS (Generally Recognized as Safe) list. The Natural also doesn't contain any soaps or harsh chemicals.
Protectants help your carpets fight stains and soiling, as well as slowing down the aging process. Most new carpets come with a factory applied protectant, but this wears off over time. Your carpets are an investment, so you'll want to keep them looking great for years to come. When you reapply protectant, your carpets will stay vibrant and clean.
Our room sizes are based on 200 square feet. If any of your rooms are over 200 square feet, there may be an additional area charge.